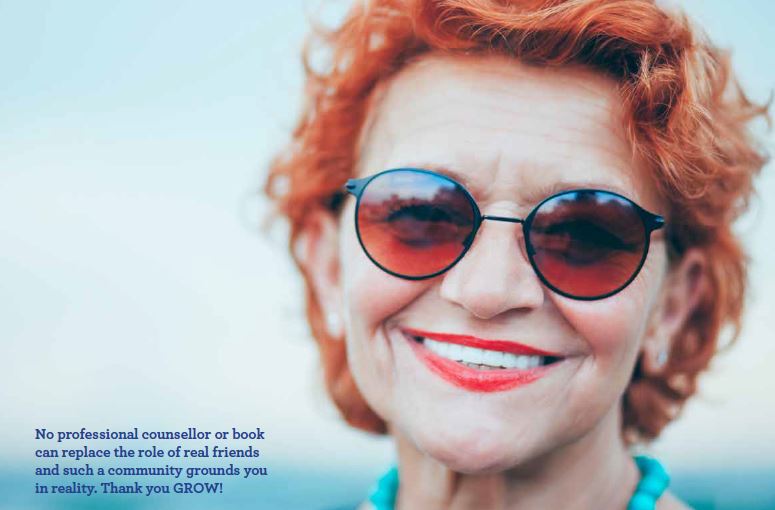 HOW HAS GROW BEEN THE ANSWER TO MY RECOVERY JOURNEY?
Debbie's Recovery Journey
GROW has been crucial to my recovery and continues to be…
I first came to a GROW group years ago in the Christmas/New Year break time, prompted by a severe family crisis, to find there was a GROW group that actually operated during that time of the year. It was a group of ordinary people, equals who in no way pressured me to explain why I was there in any time frame and had no inclination to pigeonhole me. People soon exchanged phone numbers with me. I learned over time that GROW offered a means to solve personal problems, even of the worst magnitude, bit by bit each week with a community of fellow travellers to encourage me to progress to recovery. This community uses lived experience wisdom collected over 65 years, chosen by people who have recovered and thrived.
The "flagship" of problem solving in the GROW program – the 4 stabilising questions has been and is crucial to my recovery. These questions direct me to be definite about what I'm really troubled about, ask how likely a particular prospect is, how important it is and what I could do about it. So often the second question shows up a prospect as being unlikely. When a prospect is likely, I can determine its due importance and devise a plan – using other principles from the program and suggestions from the life experience of other Growers. The other most helpful bit of the program for me is the "Overall Key to Mental Health" which is "Settle for disorder in lesser things for the sake of order in greater things; and therefore, be content to be discontent in many things." This helps me with prioritising and letting go of anxiety over things like pleasing some people when their demands are unreasonable and something else more important is at stake, like, say my long-term health.
My family crisis that seemed extremely difficult to solve to me and to various "professionals" eventually was solved mainly through participation in GROW over two years. I did not, however, leave GROW once this problem was solved because I found that GROW's program and community is "a school of life" in which I could continue to successfully "workshop" and solve various problems with fellow travellers and also help others to do so. I could continue learning and applying the program and go beyond "recovery" to a "new normal" that could continue to improve with my baseline habits of thinking changing.
For example, I now habitually remember things like "feelings are not facts." Continual improvement is also there to be had by helping others solve their problems and just listening to others engage in GROW style problem solving. Even though "you alone can do it" – being a social being you also "can't do it alone" and this is where a community to work with is essential.
No professional counsellor or book can replace the role of real friends and such a community grounds you in reality. Thank you GROW!
Published from Growing to Recovery - Readings for Mental Health Vol 2