On Friday 9 October, GROW will be celebrating Odd Socks Day! Odd Socks Day is designed to raise awareness and reduce the stigma of mental health issues.  
We want to see everyone openly discuss mental health issues, just as you would with a physical injury or any other health issue. One in five Australians aged 16-85 experience mental ill-health in any year.
When you wear odd socks you'll be helping GROW raise awareness of mental health issues and help to stamp out the stigma around mental ill-health. By wearing a pair of Odd Socks you're on your way to starting the conversation about mental wellbeing.
You can download the flyer here.
Odd Socks Day will take place on Friday, 9 October.  Why not host a fundraising event at your school, office or with your friends.  Meet up, take a photo and then post it to social media – don't forget to use #OSD2020 so we can find you!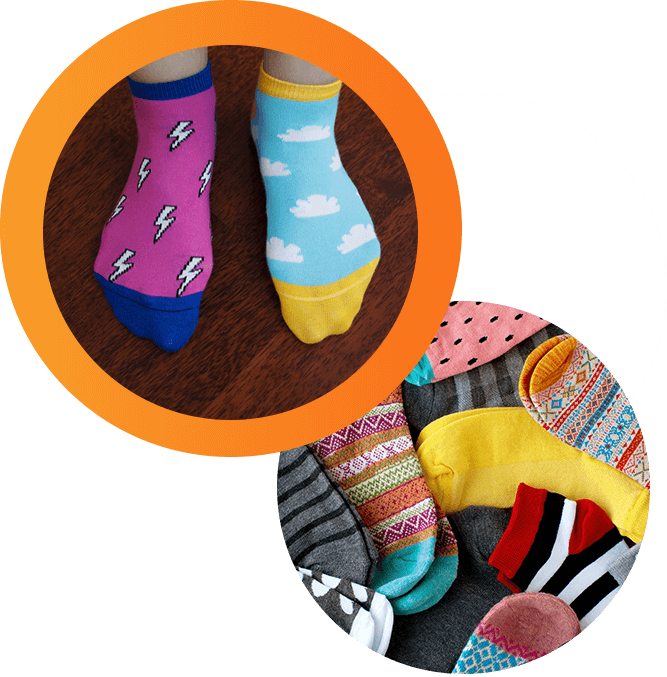 Get social and spread the word
Help raise awareness of Grow's work and Odd Socks Day by posting on your social media accounts – don't forget to use the hashtag #osd2020 
Our social media accounts have a range of materials that can be forwarded, re-posted, tweeted, liked, poked, uploaded, downloaded, added to Boards and … you get the picture!
Follow all things Odd Socks Day on Facebook: www.facebook.com/oddsocksau
Examples of OSD Messaging
Have you picked your odd socks yet? By wearing a pair, you're making a commitment to think about the way you talk about mental health. #OSD2020
1 in 5  Australians will experience a mental health issues in any year, but just over a quarter will actively engage a support service. Share the Odd Socks Day message and help Australians with mental health issues land on their feet. #OSD2020
Are you doing all you can to remove the stigma around mental health?  It's still one of the biggest barriers to seeking help. This Odd Socks Day, wear a pair and learn more at grow.org.au/oddsocksday #OSD2020
We are in this together! Wear a pair with year and help Grow Australia raise awareness of the prevalence of mental health issues. #OSD2020